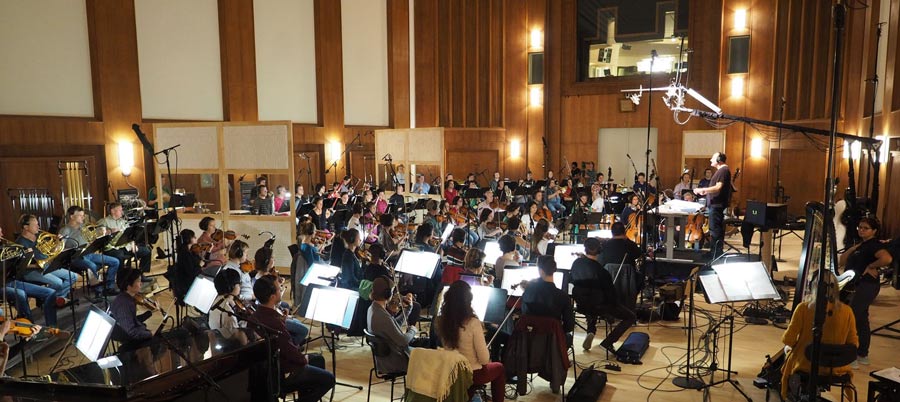 This October we travel to Vienna, to record music for our forthcoming orchestral albums 'Fortis' and 'Dominus', at Vienna Symphonic Library's industry-leading Synchron Stage.  After numerous albums recorded in Budapest, this will be our first project recorded at the world famous facility, bringing the work of trailer composers from around the world, to the home of classical music.
Fortis & Dominus: Synchron Sessions 2021
Since Evolving Sound's formation in 2016, working with the world's best musicians and creative talent has been a cornerstone of our production ethos. The majority of our albums feature live musicians and recorded content in one form another, from full orchestra to solo players, singers and emcees to field recorded, experimental sound-design. Whilst we embrace the liberating effect that progress in music technology and sampling have afforded composers, we're also passionate about the 'power of performance', and the extra dimension exceptional live recordings can add to a project. We believe that using live musicians whenever possible, is not just a privilege but a responsibility of the creative community.
To this end, we're delighted to be recording material for our new orchestral albums 'Dominus' and 'Fortis', with the Synchron Stage Orchestra.  Relied on by scoring legends such as Hans Zimmer, Rupert Gregson-Williams, Conrad Pope, Bear McCreary, Lorne Balfe, Anthony Willis, Harry Gregson-Williams, the Synchron Stage in Vienna is a true next generation facility, enabling us to capture the power and dynamism of orchestral performance, in a superb scoring space, performed by some of the world's leading musicians.
'Fortis' and 'Dominus' cover a broad set of orchestral and hybrid trailer styles, including dark and lighter fantasy, sweeping war & conflict, epic superhero and supervillain material, epic action and orchestral adventure cues.
Both albums will be released exclusively to the trailer industry late October.